BINGE Streaming Devices | BINGE Launches on LG TVs
BINGE, home to the world's best TV shows and movies, is now available to stream on LG TV models 2018 onwards.
Great news for streaming services fans as BINGE launches on LG TVs. LG TV users with a compatible TV can now access the very best in entertainment including the year's biggest hits, Mare of Easttown starring Kate Winslet, British drama Vigil and every season of the multi-award winning Australian drama, Wentworth. Along with binge-worthy best series like The Sopranos, Friends, The Walking Dead and Game of Thrones. 
BINGE is one of the fastest growing movie and TV dedicated streaming services available in Australia, specialising in content from HBO. The platform offers key features including SurpriseMe!, the BINGE Centre, BINGE Lists, Discover and Closed Captions. If you're an LG TV owner you can now also stream on demand directly from the new LG BINGE app.
BINGE is now available on LG TVs. Haven't tried BINGE yet? Get a BINGE Free Trial for 14 days and start streaming instantly.
BINGE Launches on LG TVs
Alison Hurbert-Burns, Executive Director of BINGE said: "We know people have been asking for it, so I am thrilled that we can now offer LG users the very best of drama, lifestyle, reality, docos and movies that are available on BINGE.
"We have seen massive subscriber growth since launching last May, and now with today's announcement, even more Australians will be able to access the great content we offer."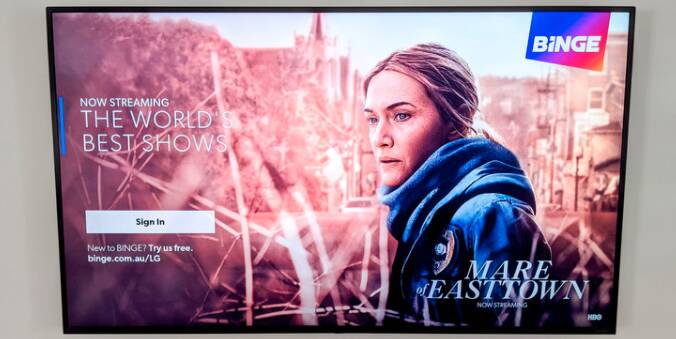 Tony Brown, Head of Home Entertainment Marketing at LG Electronics Australia said: "LG TVs are equipped with a range of features that amplify the content viewing experience. 
"Joining our suite of existing content streaming apps, the launch of BINGE on select LG TV models will give Aussies even more choice when it comes to accessing their favourite movies, TV shows and documentaries."
How to Redeem a BINGE Free Trial
New customers click the Blue "GET BINGE FREE TRIAL" button below
Once on the BINGE website click on the "

​New to BINGE? ​

Try 

​us ​

Free" button
Select your preferred subscription (

​B​

asic

​, Standard​

 or 

​P​

remium package)
Create your account with your personal details
Once you have registered an email address and password, you will be able to sign in on any supported devices and browsers offered by

​BINGE
Why did we write about this?
Our editorial team covers topics across multiple categories to help keep consumers informed about the best product options available in the market today. Latest Offers is reader-supported and may earn a commission when you visit links to partner sites.