How to Watch Man in the Arena Tom Brady | 10 Part Docuseries
Published 23rd November, 2021
"Man in the Arena: Tom Brady", the highly anticipated documentary that tells the story of each of Tom Brady's Super Bowl appearances, will premiere tonight (Tuesday, 23 November). Read on to find out how to watch Man in the Arena Tom Brady in Australia.
What is Man in the Arena Tom Brady?
The ten-part docuseries will deconstruct each of the legendary quarterbacks 10 appearances in the Super Bowl from his own perspective, alongside exclusive interviews with key figures from Brady's life and career. Brady is widely regarded as the NFL's greatest of all time, with no other player in the history of the NFL competing in more Super Bowls or matching his seven Super Bowl wins and five Super Bowl MVP titles.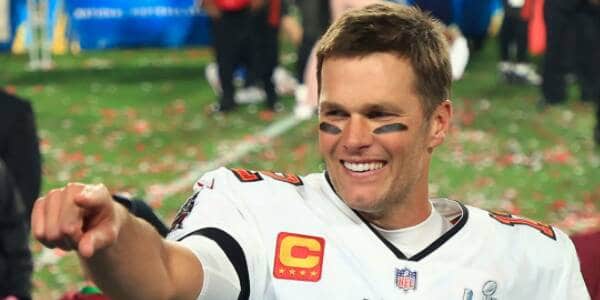 Beginning with Super Bowl XXXVI – the season Brady took over as quarterback for the New England Patriots after star quarterback Drew Bledsoe suffered an injury – the docuseries not only depicts the pivotal moments of each game, but everything that leads to them and defines Brady's legacy at the pinnacle of world sport.
Currently in his 21st season in the NFL, Brady is chasing his 11th Super Bowl appearance with the Tampa Bay Buccaneers.
When will Man in the Arena Tom Brady Premiere in Australia?
The first two episodes of Man in the Arena Tom Brady will premiere tonight (23rd november, 2021) at 8:00pm and 9:00pm AEDT, with remaining episodes released weekly on Tuesdays at 9:00pm AEDT.
How to Watch Man in the Arena Tom Brady in Australia
Streaming service Kayo Sports will stream Man in the Arena Tom Brady for the Australian market. Kayo offers a basic subscription (two screens) for $25 per month or a premium option (three screens) for $35 per month. The sports streaming service does offer a 14 day freel trial for new customers. Fans can also stream a minimum of six live NFL games every week, including four every Monday AEDT, plus Monday (Tuesday AEDT) and Thursday Night Football (Friday AEDT) – as well as every game of the NFL postseason and Super Bowl LVI LIVE on ESPN, available via Kayo Sports.
What devices can you watch Kayo on?
With a Kayo Free Trial you can stream the NFL with eligible mobile devices and browsers, including select PC and Macs, iOS and Android phones and tablets, Apple and Telstra TV, Google Chromecast, as well as Safari, Firefox, Chrome and Microsoft Edge.
Kayo Sports Latest Offers
How to Redeem a Kayo Free Trial
New customers click the Blue "GET KAYO FREE TRIAL" below
Once on the Kayo Sports website click on the green "Try Free Now" button
Select your preferred subscription (basic or premium package)
Create your account with your personal details
Once you have registered an email address and password, you will be able to sign in on any compatible device offered by Kayo Sports
Kayo is Australia's number one sports-dedicated streaming service delivering today's biggest sporting events alongside game-changing documentaries. It's the home of Australia's most popular codes, from AFL and NRL to Cricket and Supercars, as well as some of the world's biggest international leagues & tournaments. Kayo is available in Australia only.
Stream in SD or HD
Key features include SplitView, Kayo Mini, Key Moments, No Spoilers
Compatible with mobile and tablet, web, Telstra TV, Apple TV, Chromecast and more
Thousands of hours on demand match-replays, live news, shows and sports docos
Why did we write about this?
Our editorial team covers topics across multiple categories to help keep consumers informed about the best product options available in the market today. Latest Offers is reader-supported and may earn a commission when you visit links to partner sites.