KAYO Free Trial | Stream 50+ Sports Live and On Demand Free for 14 Days
Kayo is the game-changing sports streaming service. New customers can sign up for a Kayo Free trial and get access to over 50 sports, instantly.
Kayo is currently the biggest sports streaming service available in Australia and is dedicated to providing the best quality sports content from both local and international leagues live and on demand, across 50+ sports.
Instantly stream over 50 sports live and on-demand FREE for two weeks, with a Kayo Free Trial for new customers only.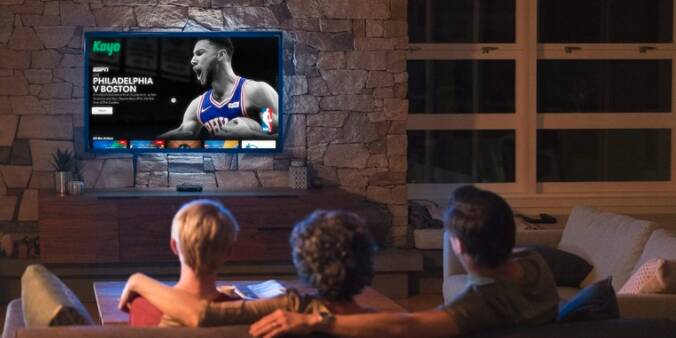 Kayo Sports is Australia's number one sports-dedicated streaming service delivering today's biggest sporting events alongside game-changing documentaries. It's the home of Australia's most popular codes, from AFL and NRL to Cricket and Supercars, as well as some of the world's biggest international leagues & tournaments. Kayo is available in Australia only.
How Does the Kayo Free Trial Work?
Kayo lets you get a taste for their dedicated sports streaming service with a 14 Day Free Trial before having to commit to any subscription plan. Once your 14 day Kayo free trial is up you then have the option to cancel or choose between two different subscription plans; Kayo Basic which allows 2 devices to stream at the one time and Kayo Premium which allows you to stream on up to 3 different devices at the same time.
Kayo Free Trial Terms
The Kayo free trial is for new customers only. When signing up you are required to enter your personal details, including your name, address and payment information (credit/debit card details). If you do not cancel your Kayo free trial before the 14 day trial period is up, you will automatically be charged the monthly cost for the plan you've selected ($25 for Kayo Basic or $35 for Kayo Premium). You can read full terms and conditions here.
What's Included with a Kayo Free Trial?
The Kayo free trial gives you access to the exact same live sport, news, documentaries and app features as paying subscribers. This means you get to enjoy the full Kayo Sports experience free for 14 days before making a longer term committment. When signing up for a Kayo free trial you'll get to enjoy the following:
Stream 50+ sports in SD or HD
Special features include SplitView, Kayo Mini, Key Moments, No Spoilers
Compatible with mobile and tablet, web, Telstra TV, Apple TV, Chromecast and more
Thousands of hours on demand match-replays, live news, shows and sports docos
No ad breaks during game play
How to Redeem a Kayo Free Trial
New customers click the Blue "GET KAYO FREE TRIAL" button below
Once on the Kayo Sports website click on the green "Try Free Now" button
Select your preferred subscription (basic or premium package)
Create your account with your personal details
Once you have registered an email address and password, you will be able to sign in on any compatible device offered by Kayo Sports
Kayo Special Features
With Kayo there's no such thing as watching from the sidelines. The dedicated sports streaming service includes some amazing key features to bring you closer to the sports you love.
1. SplitView
If you've ever experienced fixture clashes that have you changing the channel every stoppage in play, this feature is a game changer (pun intended). With Kayo SplitView you can watch up to four streams on the one screen at the exact same time. Available across PC, laptop or tablet devices, SplitView gives you the luxury of tuning into multiple live sports or even watching the same game with different camera angles, giving you the perfect armchair experience. To top it off, Kayo subscribers can give each stream equal share of a screen or set one sport to be larger than the rest.
2. Key Moments
Put simply, Kayo's Key Moments feature gives you instant acess to any game highlights. Subscribers can head to a game's video player timeline and navigate though key moments (marked via small boxes that will pop up on the timeline). The feature is switched to OFF by app default, to help avoid spoliers) however you can easily switch this to ON and jump to the most exciting parts of game play. This feature is particularly great for sports like NRL or soccer where you can easily watch trys and goals scored.
3. No Spoliers
Kayo knows the last thing you want is to have a game ruined. The No Spoliers feature, which is set to default within the Kayo app, hides all scores and final results for fixtures so you can watch every game as if it was a live event.
4. Interactive Stats
Serious about game play data? Kayo's Interactive Stats is for you. This special feature allows subscribers to get even greater insight into a fixture via live in-game stats which appear on screen while you watch. Basically a dashboard of all the important moments in a game, Interactive Stats includes statistics on things like Wickets, Runs, Tries, Possession, Penalties and Top Players (stats available will obviously depend on the sport you are watching). The Interactive Stats feature is currently available on all Australian Cricket matches, AFL, NRL, A-League and Super Rugby.
5. From Start
From Start is a crucial feature for anyone who has missed the start of a live sports event. Subscribers can go back to the very beginning of a fixture even though the game is live in play. To top it off, if you'd like to catch up to live play, Kayo even allows you to fast forward or watch at double the normal video speed.
6. Kayo Minis
If you completely missed a game and stretched for time Kayo offers Kayo Minis; unique condensed replays that cover only the best key moments in a game. Basically a highlights package, Kayo Minis last anywhere from 15 minutues up to half an hour.
How do we select offers?
Our team reviews thousands of offers every single week across hundreds of product categories, making sure we provide the best offers available in the market today. Latest Offers is reader-supported and may earn a commission when you visit links to partner sites.