BINGE Free Trial | Stream Blockbuster Movies & Hollywood TV Free for 14 Days
Updated 3rd February, 2022
BINGE is the streaming service with literally something for everyone. New customers can sign up for a BINGE Free trial and get access to some of the biggest TV shows and movies in the world.
BINGE is currently one of the fastest growing streaming services in Australia, thanks to it's large catalogue of Hollywood blockbuster flicks, TV series classics and the latest content straight from America's HBO.
BINGE Free Trial Offer Details
Stream over 10,000 hours of unturnoffable shows and movies from the world's best creators on demand FREE for two weeks, with a BINGE Free Trial for new customers only.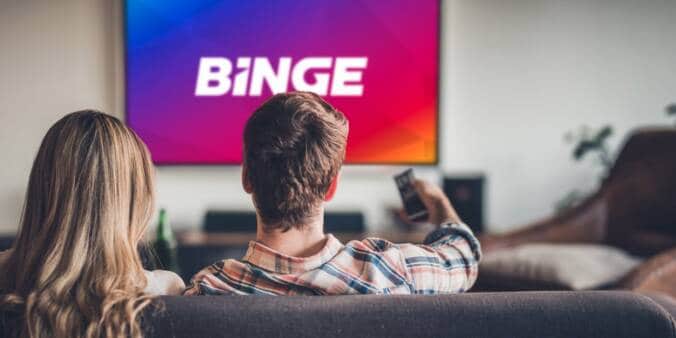 BINGE is one of the new kids on the block when it comes to streaming services in Australia! From the same creators as KAYO Sports, BINGE brings you unturnoffable shows and movies from the worlds best creators. There is entertainment for every mood and new stuff is added daily. With BINGE you can watch content on demand and ad-free.
RELATED: What's on BINGE this Month
How Does the BINGE Free Trial Work?
BINGE lets you trial their movie and TV streaming service with a 14 Day Free Trial before committing to any monthly subscription plan. Once a BINGE free trial period expires you then have the option to select from three different plan types; the Basic Package which allows 1 device to stream at the one time with SD stream quality, the Standard Package which allows 2 devices to stream at the one time with HD stream quality and the Premium Package which gives you the ability to stream across 4 devices at the one time with HD quality. Alternatively, you can also cancel your subscription after the Binge Free Trial comes to an end if you do not wish to continue being a subscriber.
BINGE Free Trial Terms
The BINGE free trial is for new customers only. When signing up you are required to enter your personal details, including your name, address and payment information (credit/debit card details). If you do not cancel your BINGE free trial before the 14 day trial period is up, you will automatically be charged the monthly cost for the plan you've selected ($10 for Basic, $14 for Standard or $18 for Premium). You can read full terms and conditions here.
What's Included with a BINGE Free Trial?
The Binge free trial gives you access to the exact same movies, TV Shows, documentaries and app features as paying subscribers. This means you get to enjoy the full Binge experience free for 14 days before making a long term committment. When signing up for a Binge free trial you'll get to enjoy the following:
​Binge over 10,000+ hours​

 in SD or HD

​Special

 features include 

​Surprise Me!

, 

​BINGE Centre, BingeLists and more

Compatible with mobile and tablet, web, Telstra TV, Apple TV, Chromecast and more

​Dolby Digital sound​

​Ad-free on demand​

Cancel anytime
How to Redeem a BINGE Free Trial
New customers click the Blue "GET BINGE FREE TRIAL" button below
Once on the BINGE website click on the "

​New to BINGE? ​

Try 

​us ​

Free" button
Select your preferred subscription (

​B​

asic

​, Standard​

 or 

​P​

remium package)
Create your account with your personal details
Once you have registered an email address and password, you will be able to sign in on any compatible device offered by 

​BINGE
BINGE Special Features
With ​BINGE it's all about entertainment.​ The dedicated ​TV and Movie streaming service includes some ​great ​special features to ​enhance your streaming binge.
1. Surprise Me!
​Ditch the endless scroll. BINGE wants you to get your entertainment fast! With their Surprise Me! feature subscribers are dropped into a randomly selected TV show or movie​. This special feature is particularly great if you're new to the streaming service and don't know what to watch. If you​ don't like ​what ​BINGE has​ chosen you can select 'Try Again' for more​ random selections. Surprise​ Me! is available on web and Telstra TV now, and coming soon to all other supported devices.
2. BINGE Centre
Are you a superfan? Then the BINGE Centre is for you! With this feature you can find out the story behind the story, get access to behind the scenes footage, cast & crew interviews and more to help you really immerse yourself in extras. This BINGE special feature is available for select content only.
3. BingeLists
​If you happen to find yourself exploring BINGE's endless content, you can use their BingeLists feature to help you save something to watch later. BingeLists is available for each BINGE profile, so everyone​ in your household​ can create their very own personalised list of shows, movies and ​documentaries as they browse​.​
4. Discover
In the mood for a laugh or maybe something romantic? With Binge's Discover feature you can search content by mood, theme, events, and more to give you a round-up of all TV shows and movies matching your interest. The Discover feature also provides curated collections and top staff picks to give you a different way to discover new entertainment.
5. Closed Captions
The Closed Captions feature on BINGE displays subtitles and descriptions of non-speech elements of the show or movie you are watching. This helps supplement dialogue and other relevant parts of the soundtrack – describing background noises, phones ringing and other audio cues. This special feature can be switched ON or OFF for each BINGE profile and once activated on a particular device, Closed Captions will remain on for that profile until switched off again. The majority of BINGE content will include captions but not all TV shows and movies have this feature just yet. Currently, Closed Captions are available in English only.
How do we select offers?
Our team reviews thousands of offers every single week across hundreds of product categories, making sure we provide the best offers available in the market today. Latest Offers is reader-supported and may earn a commission when you visit links to partner sites.