How to Watch the Friends Reunion in Australia
BINGE is about to make your day, your week, your month, or even your year! Read on to find out how to watch the Friends Reunion in Australia.
Friends fans worldwide have been in a frenzy since February 2020 when a reunion was announced. Many speculated Rachel, Chandler, Monica, Phoebe, Joey & Ross would finally be back together with a new episode as a continuation of the show. Of course, a certain pandemic put any sort of filming on ice, which only added to the anticipation.
What is the Friends Reunion?
The Friends Reunion was exactly that, a reunion of the cast members appearing as themselves on the original Friends stage in Los Angeles. The one-off special featured appearances from some of the world's biggest stars as well, including David Beckham, Justin Bieber, BTS, James Corden, Cindy Crawford, Cara Delevingne, Lady Gaga, Elliott Gould, Kit Harington, Larry Hankin, Mindy Kaling, Thomas Lennon, Christina Pickles, Tom Selleck, James Michael Tyler, Maggie Wheeler, Reese Witherspoon and Malala Yousafzai.
Hosted by James Corden, the reunion was unscripted and similiar to a talk show interview, but with plenty of flashbacks and memories included. You can check out the trailer above.
It's been 17 years since the TV series ended and 9 years since actors Jennifer Aniston, Courteney Cox, Lisa Kudrow, Matt LeBlanc, Matthew Perry and David Schwimmer were all in the same room together. The special celebrated the mega-hit comedy's 25th anniversary and we're about to tell you how you can still catch it.
Haven't tried BINGE yet? Get a BINGE Free Trial for 14 days and start streaming instantly.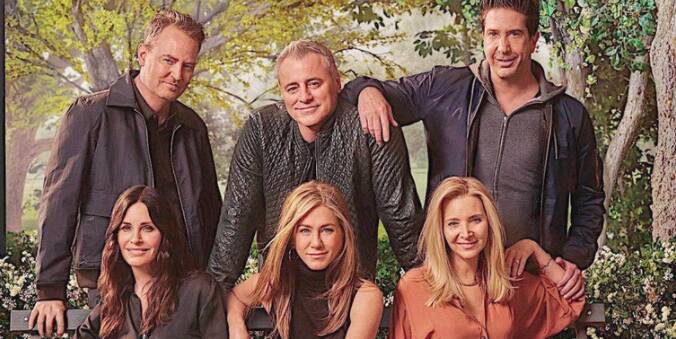 When will the Friends Reunion air?
Friends: The Reunion premiered May 27, 2021 in the US. Luckily for Aussies, Foxtel and its streaming service BINGE also aired the special the same day, express from the US. Viewers can still tune in and watch the special, but be warned, you'll need to get the tissues ready!
RELATED: What's on BINGE this Month
How to Watch the Friends Reunion in Australia
Streaming service BINGE aired the Friends Reunion the same day as the US launch. Don't have BINGE? No problems. New customers can redeem a BINGE Free trial to test out the streaming service and tune into the Friends Reunion. BINGE also has the entire back catalogue of Friends episodes (all 236 of them) so you can take a walk down memory lane while you're at it.
How to Redeem a BINGE Free Trial
New customers click the Blue "GET BINGE FREE TRIAL" button below
Once on the BINGE website click on the "

​New to BINGE? ​

Try 

​us ​

Free" button
Select your preferred subscription (

​B​

asic

​, Standard​

 or 

​P​

remium package)
Create your account with your personal details
Once you have registered an email address and password, you will be able to sign in on any compatible device offered by 

​BINGE
BINGE is fast becoming one of Australia's most popular streaming services. BINGE brings you unturnoffable shows and movies from the worlds best creators. There is entertainment for every mood and new stuff is added daily. With BINGE you can watch content on your mobile phone, tablet, Apple TV, Android TV, Telstra TV, via Chromecast and on Sony & Samsung Smart TVs. For more information on viewing options click here.
Available on mobile phones and tablets using iOS v12+ or Android OS v7+
Over 10,000 hours of on demand TV shows and movies
Cancel anytime
Dolby Digital sound
Why did we write about this?
Our editorial team covers topics across multiple categories to help keep consumers informed about the best product options available in the market today. Latest Offers is reader-supported and may earn a commission when you visit links to partner sites.